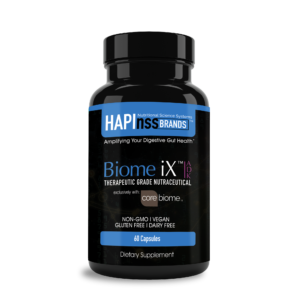 Biome iX™ADK
With Biome iXTM ADK, you can give your body exactly what it needs, just when it needs it. Specifically designed to boost energy levels while also balancing your gut microbiota. Biome iXTM ADK provides the pure power of Butyrate that you've been looking for!
Why Is Biome iXTM ADK So Popular?
Is IBS, leaky gut, persistent tiredness, bloating, and inflammation troubling you? Antibiotics turned your insides inside out? Biome iXTM ADK could well be the solution you've been waiting for! Butyrate supplementation differs from typical medical treatments because it is natural: our system generates it naturally, and we consume it every day and can digest it easily.
BENEFITS
Biome iXTM ADK is designed to get your gut naturally invigorated and back in balance, as most of us don't receive enough fiber in our diets. The advantages are obvious, and Tributyrin cannot be overlooked when it comes to maintaining a healthy microbiota. This is why:
Enhances gut and microbiota health
Supports a healthy intestinal inflammatory response.
Helps to maintain a healthy insulin response
Contributes to the preservation of excellent health by assisting/supporting eye/skin health.
Promotes gut mucosal health.
Healthy skin and/or mucous membranes provide support.
Aids in the support and maintenance of immunological function
Aids in bone and tooth growth and maintenance.
Helps to develop and maintain night vision.
Aids in the diversification of the microbiome
Aids in the reduction of inflammatory responses
Aids in the digestion of food.
Aids in preventing Dysbiosis, also known as Leaky Gut Syndrome.
FACTS
1 capsule = 1 serving
60 servings
INGREDIENTS
Vitamin K2 Menaquinone-7
Vitamin D3 Cholecalciferol
Vitamin A Retinyl Palmitate
Gelatin
Extra Virgin Olive-Oil
Purified Water and Glycerin
Note: No peanuts/ milk/ soy/ eggs/ wheat/ crustaceans/ tree nuts/ or fish.
Directions: Adults should take 1 capsule 1-3 times a day or as prescribed by their healthcare provider.
Caution: If breastfeeding, pregnant, or using drugs, consult your doctor before using this product. Keep out of children's reach.
Biome iXTM ADK is one of the most recent dietary supplement breakthroughs. This supplement is designed to boost energy levels while providing dietary fiber to your gut bacteria. This Butyrate supplement has several benefits that make it the most acceptable option for gut health.
Your body may acquire its daily fiber need and boost anti-inflammatory reactions in the body with the Amplifei Biome iXTM ADK. Using the Amplifei Biome iXTM ADK to boost your health has many other advantages. It aids with bone formation, digestive function, and the prevention of leaky gut syndrome.
It also supports the immune system by increasing the variety of your gut microbiome, which leads to increased resistance to illnesses and poisons. This supplement also contains natural components such as extra virgin olive oil, gelatin, glycerin, and vitamins A, D3, and K2. All of which are found in nature.
Adults should not use more than three capsules of this supplement per day unless instructed otherwise by a professional healthcare practitioner. You may be advised to take these supplements by your doctor for various reasons, including Constipation, Leaky Gut, or Dysbiosis.
Chronic tiredness, bloating, inflammation, and irritable bowel syndrome can all be prevented and treated with this vitamin. Amplifei has put money into product research to ensure that all of its clients get the most effective health supplements to help them enhance their gut health.
We're also entirely devoted to refining our patented chemical formulas so that they can meet the demands of the working class as they expand. This recipe was developed with the assistance of a group of expert chemists and microbiologists who investigated the nutritional qualities of Tributyrine when combined with the other ingredients stated above.
Hundreds of people's lives have been improved because of Biome iX.