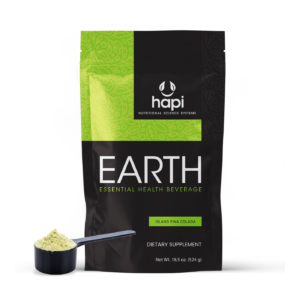 Earth
It is an ultimate nutritional formula in the form of a delicious beverage. Earth is a delectable, detoxifying, vitamin-rich shake that includes all the natural ingredients your body requires for optimal health! This effective composition improves and purifies the digestive system, stimulates healthy immune function, and supplies the daily necessary intake of minerals and vitamins that are vital for you to keep a healthy diet.
Why Earth?
Earth is an all-in-one nutritional drink that is made from full spectrum vitamins and minerals. This delicious beverage is rich in adaptogens, digestive enzymes, proteins, probiotics, and antioxidants. Boost your daily intake of natural nutrients by adding earth to your dietary routine.
BENEFITS
Boosts natural energy levels
Improves immune function
Improves gut health
Enhances digestive functions
Earth provides the exact nutrition's that your body requires nothing more or nothing less.  Regardless of your activities, Earth will contribute essential vitamins, nutrients, proteins to your body for a healthy and well-balanced diet.
Details
Size of per serving: 1 scoop
Total Servings: 28
INGREDIENTS: 
Greens Proprietary Blend
Organic Wheat Grass/ Tomato/ Spirulina/ Spinach/ Moringa Leaf/ Dulse/ Chlorella/ Broccoli/ Beet Root/ Barley Grass / Alfalfa Grass
Berry Proprietary Blend (Strawberry, Red Raspberry, Pineapple, Maqui, Goji, Blueberry, Blackberry, Acerola, Acai)
Acacia Fiber
Amylopectin
Baobab Fruit Pulp
Coconut Oil Powder
Collagen Hydrolysate
Organic Mushroom Blend
Vegetable Amylose (Cordyceps, King Trumpet, Lion's Mane, Reishi, Shitake, and Turkey Tail.)
Natural Flavor
6 Strain Probiotic Blend (Bifidobacterium breve, Bifidobacterium longum, Lactobacillus acidophilus, Lactobacillus casei, Lactobacillus plantarum, and Lactobacillus rhamnoses.)
Citric Acid
Guar Gum
Papaya
Pomegranate
Digestive Enzyme Blend (Alpha Amylase, Beta Amylase, Cellulase, Invertase, Lactase, Lipase, Protease I, and Protease II)
Artichoke
Celery Seed
Fennel
Ionic Trace Mineral Blend
Kiwi
Okra
Stevia Leaf Extract
Sunflower Lecithin
Xanthan Gum
How to Intakes: Add one scoopful to 7-10 ounces of your favorite beverage or water, shake it well until it has dissolved in, and enjoy your healthy nutrient drink.