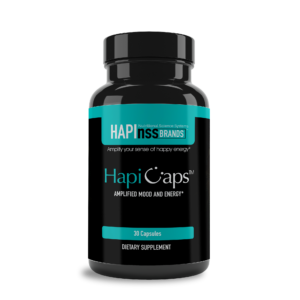 HapiCaps™
Are you weary of being sleepy, angry, and reliant on harmful energy drinks? If so, we have a solution and answer for ya!
HapiCapsTM is one of today's most impressive breakthroughs in nutria-energy supplement technology, combining a potent combination of unique components that will put a spring in your phase and help you feel energized, alert, and focused.
Why should you use HapiCaps?
There's a lot to do in this world. We all need a jolt of energy now and again to get through the day! The HapiCaps combination of organically derived extracts, vitamins, and caffeine will provide your body with the long-lasting energy it requires.
BENEFITS
Here Are a Few Significant Advantages:
Aids in the promotion of alertness and wakefulness.
Supports the gut-brain link by promoting cognitive function.
Aids in the relief/reduction of fatigue/tiredness.
Supports/improves mental sharpness/alertness.
It aids in the maintenance of peripheral circulation.
Supports and encourages weight loss.
Aids in the development of a healthy immune system.
FACTS
Serving No: 1 capsule (60)
INGREDIENTS
Energy Blend 290 mg – Caffeine Anhydrous
InfinergyTM (Di-caff Malate)
PSynephrine HCL
Yerba Mate Leaf Extract
Yohimbine HCL
Bioactivity
Bioavailability Adrenal Defense Blend 200 mg
L-Theanine, Panax Ginseng Extract
Rosemary Leaf Powder
Eleuthero Root Extract
Other Ingredients: Calcium Silicate, Silicon Dioxide, Magnesium Stearate, Vegetarian Capsule
Usage: When you require a burst of energy and happiness, take one capsule that day.
Note: This non-nootropic triple unique mix of all-natural components will boost your energy and sense of well-being. Each serving of this product contains 180mg of caffeine.
HapiCaps is one of the latest in a long line of AmpLifei products that have been created to help the average human become extraordinary. Thanks to a combination of 180mg of Caffeine, and natural extracts including ginseng, rosemary, eleuthero, and cayenne pepper, AmpLifei HapiCaps is a supplement that will keep you alert and awake throughout the day. This non-nootropic supplement is capable of naturally boosting your metabolism and promoting mental awareness to give your day the extra kick it needs.
The AmpLifei HapiCaps is beneficial for people suffering from lethargic mornings and mild obesity. By improving the peripheral circulation in your body and reducing fatigue, this supplement is an instant coffee in a capsule for people who always remain on the go.
It is also very useful in promoting the gut-brain connection and supporting the immune system. Simply take one capsule a day and then enjoy the effects of up to 10 different natural extracts that are combined carefully to give you the perfect balance of power and mindfulness.
With up to 60 capsules in a single container, you can remain energetic for up to two entire months by using this non-nootropic health supplement. Just consume the capsule at the time when your energy feels the lowest, and experience an almost instant boost in mental alertness and an improvement in your overall mood.
Gone are the days when energy drinks and sugary snacks were the best way to fill up during a busy work day. Now it all comes down to this single capsule which contains the highest quality of ingredients to make your body function the way you want it to, the moment you want it to.
Amplifei makes the best health supplements for you and your pets. Our proprietary formulae, combined with the highest quality of ingredients and a dedicated team of nutritionists is what allows us to take care of your daily needs in a safe and controllable manner.