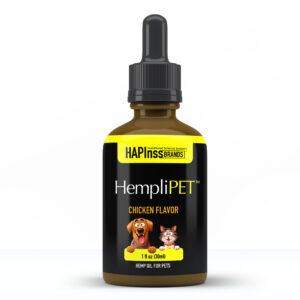 HempliPET
HempliPET is specifically manufactured to provide relaxation and healthy life to your pets. Each serving of 2ml carries 20 mg of active endocannabinoids and naturally occurring terpenes.
Get Chicken FlavorHempliPET that your pets love the most!
Why HempliPet
Our products aren't just based on research; they're also manufactured with a lot of love and a desire to provide your dogs with the finest possible care. This novel hemp-based treatment was created by our scientific advisory team of prominent health specialists, to provide the best assistance for the most prevalent pet health issues. HempliPETTM blends a nutritious entourage of ECN with other nutrients to support your pet's cellular and immunological health, neurocognitive function, and mobility, all while delivering your pet with the ultimate calming and relaxing experience.
BENEFITS
HempliPET full-spectrum ECN blend:
Aids to maintaining physical and mental well-being
Behavioral support
Enhances neurocognitive function
Improves skin health
Maintains/improve cellular and immune health
Provides relaxation
Supports mobility
Details
Size per serving: 1 capsule
Quantity: 60 servings
Ingredients
Full Spectrum Hemp Cannabinoids Extract
MCT oil
Natural Char Flavor (Attractant)
Natural Chicken Flavor
Vitamin E.
Cautions
Only for animal usage. Before using, consult a veterinarian. Store below 86°F in a cool, dry area. Refrigerate for up to six (6) months after opening or keep at room temperature for one (1) month.
Suggested Use
Only feed your dog by following the instructions below. This product is only for supplemental use.
Dose
1 drop (0.2mg) as per 1 pound of your pet's body weight.