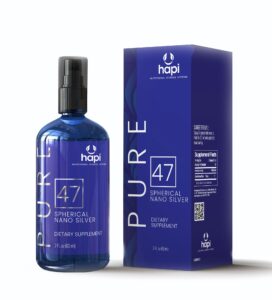 Pure 47
The natural, primary method to strengthen your immune system is by using Pure 47 SNS- Spherical Nano Silver Supplement. Only two elements go into our SNS of 99.9% that are Pure Deionized Water and Spherical Nano Silver Particles.
There are no chemicals, salts, or proteins in our product. Thanks to the small unit size and purity, you receive a better silver supplement with primeval quality and efficacy on the market.
Why Use Pure 47?
Pure 47 Spherical Nano Silver Supplement is a natural, elemental method to boost your body's immune system.
Silver has been utilized to help protect human health for over 2,400 years. Silver's health-protective effects have been well-known and explored since Hippocrates' time.
Throughout history, silver has been utilized to help safeguard the purity and safety of drinking water.
BENEFITS
Aids in the healing of wounds.
Aids to energize metabolism and develop tissues.
Aids in the reduction of inflammatory responses.
DETAILS ABOUT THE PRODUCT
5 Sprays Per Serving (1 ml)
60 Servings
INGREDIENTS:
20 Mcg Spherical Silver Particles
Deionized Water is the only other ingredient.